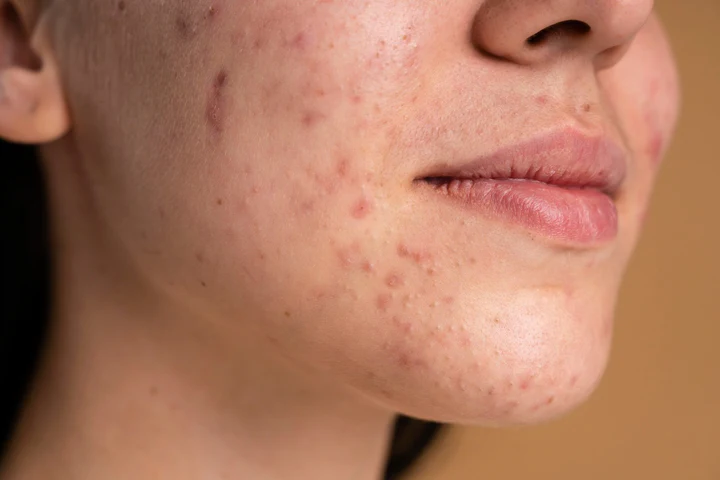 You may notice that after a breakout, you have dark spots where your active acne used to be. This is called Post Inflammatory Pigmentation. Post inflammatory Pigmentation is caused when your skin cells react to damage or irritation by making extra melanin. It can be extremely frustrating to deal with hyperpigmentation after you have successfully controlled your acne. Thankfully, there are ways to treat it!
I personally like to combine a Retinoid with Vitamin C Serum. That said, there are several forms of Retinoids and some can be very irritating to the skin. I suggest that before you start a Retinoid, consult with your Esthetician or Dermatologist to determine what strength is best for you.
I prefer to use a Retinaldehyde Serum. It performs closest to Retinoic Acid in a cosmetic topical, addressing evenness of facial skin tone while being the least irritating Vitamin A (Retinoid) making it perfect for all skin types. How does the Retinoid work? It promotes skin shedding, which improves cell turnover rate and hinders the activity of the enzyme tyrosinase, which encourages the production of melanin. You always want to use your Retinoid in your evening routine, and do not pair it with any other active ingredients.
You would pair your Vitamin C serum by using that in your morning routine. Vitamin C lightens skin by inhibiting the amount of melanin your pigment skin cells generate. When applied topically, vitamin C interacts with tyrosinase, the main enzyme responsible for the conversion of the amino acid tyrosine into melanin, thereby reducing pigmentation.
Remember that results take time, this can be weeks or months. Be patient and stick with your regimen. When dealing with pigmentation it is also crucial to wear an SPF 30 minimum on your face everyday. If you at any point have any irritation, redness, extreme dryness, or flaking pause your active ingredients and consult with your Esthetician or Dermatologist.
Here are the links to the serums I prefer. These are sold at Studio Soleil and can also be dropped shipped to you. Please contact us at www.thestudiosoleil.com
Vitamin C https://www.skinscriptrx.com/Vitamin-C-Green-Tea-Serum-2
Retinaldehyde https://www.skinscriptrx.com/Retinaldehyde-Serum-with-IconicA